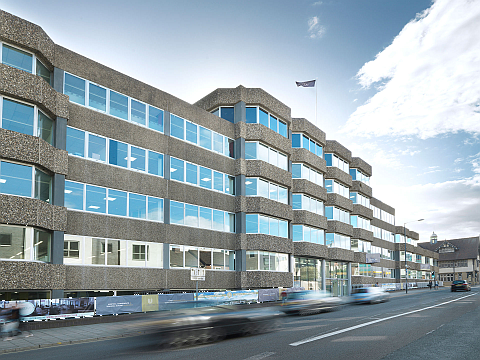 We've moved offices to another place in Norwich, just down the road from where we used to be in Cattle Market Street.
Union Building was a Norwich Union insurance office until the mid 90's but construction of the building began in the early 1970s and on completion it was originally known as Snow House and remained empty until it opened in 1978 as Norwich Winterthur House. It was then the head office of the Norwich Winterthur Group, a global reinsurance and insurance company which was part of the Aviva Group. It remained as such until the mid-1990s, when it was renamed Rose Lane Business Centre to reflect its change to multi-tenancy occupation. From 2007 the building lay vacant and became near derelict until mid 2015 when it was bought privately, refurbished and rebranded into The Union Building.
We moved here because several partners and clients are either in the building or nearby. It's great location and the rooftop terrace and restaurant will be very welcome in the summer.